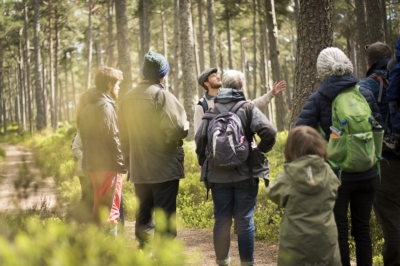 In this consultation we've asked you to consider six themes: (i.) people and nature; (ii.) economic recovery; (iii.) achieving net zero; (iv.) local communities; (v.) visitors to the Park; and (vi.) a Park for everyone. Over the next few weeks we'll be shining a spotlight on each of these in turn, giving you a chance to hear what others have been saying about the future of the Park.
This week we're looking at how people and nature interact in the National Park. Below is a selection of your views so far:
"Homes should be built to a standard in keeping with their surroundings and should use materials from the local area. They should also be affordable to families."

"Land should be protected but also managed well with farming, forestry and sporting estates working together."

"There should be strict but fair expectations communicated effectively to visitors to allow people to enjoy the outdoors without negatively impacting it."

"Reintroduction of native broadleaf woodland and diversification of grouse moorland. This will massively benefit biodiversity, as well as building resilience to climate change and achieving net zero."

"Increased public access to all areas of the park encouraging people to be active and engaged in what the park has to offer. More signposted walking and cycling routes with cooperation from land owners."

"By listening to the needs of all people working for the National Park i.e. from visitor services workers to rural workers, conservationists and local businesses, and encouraging all to agree a joined up approach."

"Consider a small sub charge to enter the national park or to park in regions of the park to balance the tourism and the park. This can help develop real infrastructure for people and therefore will continue to attract tourists in the future."

"The park should be managed for the land and residents (animals and humans) first and foremost."

"Stop making new areas more accessible,the wilderness feel is lost."

"Improve existing paths/ trails while keeping other areas [with] nature prioritised to reduce human interference/ disturbance."
Do you agree or disagree with the above contributors? We'd love to hear your thoughts on the future of the Cairngorms National Park. If you haven't already done so, please share your views or share this consultation with your friends and family.